Click on the historic Stanley Theatre's curtain (above) to see a vintage video on Vancouver from 1907

CAPTAIN VANCOUVER - HISTORY

Captain Vancouver is credited with exploring and mapping the coastline back in 1795.

Visit the City of Vancouver Archives to view original documents from Captain George Vancouver.

Born in June 22, 1757, Captain George Vancouver was a Royal Navy officer who served on several ships during his career, including the Resolution and the Discovery with the famous explorer, Captain James Cook. Vancouver's most famous voyage was the 1791-1795 expedition to explore the west coast of North America and to determine if the Northwest Passage really existed. The passage was believed to be a navigable waterway to connect the Atlantic and Pacific oceans. This expedition was the first to produce detailed charts of the waters around the City of Vancouver. The City and island was named for him in honour of this voyage.

For more historical details and links visit this Wikipedia link.

Vancouver History Quiz

How well do you know your local history? Try this 30-day quiz. www.vancouverhistory.ca

Vancouver City - History

Vancouver is located in the traditional territory of the Squamish, Musqueam and Tsleil-Waututh First Nations, members of the Coast Salish linguistic group. The ancestors of these groups settled in the Vancouver area more than 8,000 years ago.
José Maria Narváez, a Spanish explorer, was the first to see the site of what is now Vancouver in 1791. A year later, English sailor Captain George Vancouver and Spaniards Dionisio Alcalá-Galiano and Cayetano Valdés were also in the area. During these initial explorations, both the Spanish and the English made contact with Indigenous populations.
Vancouver, British Columbia, incorporated as a city in 1886. Here is a historical record of significant events that shaped how Vancouver City is today. www.thecanadianencyclopedia.ca/

Book: Captain Vancouver and medicine in the Age of Sail

Dr. Greenstone MD, from Surrey, BC, has written an interesting article titled "Captain Vancouver and medicine in the Age of Sail". This was published in the BC Medical Journal Vol. 52 No. 10, December 2010. The PDF can be viewed here.

Book: Madness, Betrayal and the Lash

The tragic story of Captain Vancouver, a great explorer whose triumphs were overshadowed by public humiliation.
From 1792 to 1795, George Vancouver sailed the Pacific waters as captain of a major expedition of discovery and imperial ambition. Britain had its eyes on Pacific North America, and Vancouver valiantly charted four thousand miles of coastline from California to Alaska. His voyage was one of history's greatest feats of maritime daring, scientific discovery, marine cartography and international diplomacy.
Vancouver's triumph, however, was overshadowed by bitter smear campaigns initiated by enemies he made on board, in particular Archibald Menzies, the ship's naturalist, and Thomas Pitt, a well-connected midshipman whom Vancouver flogged and sent home. Both men were members of the governing elite and, once back in London, they destroyed Vancouver's reputation. Pitt publicly challenged Vancouver to several duels and then beat him in a London street with a cane when he declined. The ailing Vancouver was lampooned in the press as a coward and a bully. Unable to collect back pay, he was left impoverished and ill. He died just after finishing the manuscript of his voyage, scrawling out the final pages on his death bed.
In this gripping tale of maritime daring and betrayal, Stephen Bown offers a long-overdue re-evaluation of one of the greatest explorers of the Age of Discovery.

Book: The Hidden Journals

Captain Vancouver and His Mapmaker : A Personal Journey of Discovery, by Mary Tasi and Wade Baker (2015)
HIstory turns into mystery when the authors begin to research the oral stories about Wade Baker's ancestor, Third Lieutenant Joseph Baker, mapmaker on HMS Discovery. from 1791 to 1795. Memories from Grannie Lizzie and other Coast Salish and Hawaiian elders lead to authentic stories about Captain Vancouver, and his officer's relationships with Kings, Queens and royal families in their kingdoms in North America and Hawaii. A fascinating presentation on the intersection between unknown indigenous oral stories and archival primary source documents from the 18th century.

Book: A voyage of discovery to the north Pacific Ocean, and round the world

In which the coast of north-west America has been carefully examined and accurately surveyed. Undertaken by His Majesty's command, principally with a view to ascertain the existence of any navigable communication between the North Pacific and North Atlantic oceans; and performed in the years 1790, 1791, 1792, 1793, 1794, and 1795, in the Discovery sloop of war, and armed tender Chatham, under the command of Captain George Vancouver, written by George Vancouver

Book: Sailing with Vancouver

Could I have been one of them? was what Sam McKinney wondered as he retraced, alone, from Puget Sound to Queen Charlotte Strait, the explorations of Captain George Vancouver and his men. In the 1790s, day after day, they had rowed for long hours, camping on rocky beaches in all weathers and charting the intricate coastline for the first time. Two hundred years later, McKinney followed them in his 25-foot sailboat, anchoring in the same locations as they had done, experiencing the same winds and waves, and sharing what McKinney calls the link of vulnerability that is the ever-present condition of all people who go to sea. Written by Sam McKinney, TouchWood Editions, 2004

Book: Captain Vancouver, North West Navigator

This title offers a biography of he man who discovered Vancouver Island, George Vancouver. Born in England in 1758, entered the Roya Navy at the age of 13 and soon secured an appointment with the greatest of all seamen, Captain James Cook and learned all his maritime skills under his tutelage - accompanying Cook on his voyage around the world in 1772-74. By E. C. Coleman, Caedmon of Whitby, 2000.

Book: From Maps to Metaphors: The Pacific World of George Vancouver

During the summers of 1792-94, George Vancouver and the crew of the British naval ships Discovery and Chatham mapped the northwest coast of North America from Baja California to Alaska. Taking the art and technique of distant voyaging to a new level, Vancouver eliminated the possibility of a northwest passage and his remarkably precise surveys completed the outline of the Pacific. But to map an area is to appropriate it – to begin to bring it under control – and Vancouver's charts of the northwest coast were part of a process of economic exploitation and cultural disruption. The chapters in this illuminating book are written from a variety of perspectives and provide new insights on many aspects of Vancouver's voyages, from the technology employed to the complex political and power relationships among European explorers and the Native leadership. By Robin Fisher, Hugh J. M. Johnston, UBC Press, 1993

Captain Vancouver's ancestral castle to become a hotel

COEVORDEN - The local castle once owned by the forebears of 17th century English explorer Captain George Vancouver reopened as a luxury hotel in 2009. The municipality, which used the building as city hall for decades, sold two adjoining heritage buildings to an area hotel operator who also leases the castle. He guarantees that public functions such as wedding ceremonies, can continue to be held in the castle that in its earliest stages was built in the 11th century. A three-quarter sized replica of the castle of the Van Coevorden family was erected in Vancouver, BC, in 1986 for that city's Expo86. Both the British Columbia city and a town in adjoining Washington state were named after the explorer whose parents had moved to England and eventually Anglicized their name, changing from Van Coevorden to Vancouver.
| | | |
| --- | --- | --- |
| Great Places to Visit | | Old Vancouver City Map |
| | | |
The old woman who lived in a shoe - 3 room stump house cnr 26th Ave & Prince Edward St, Vancouver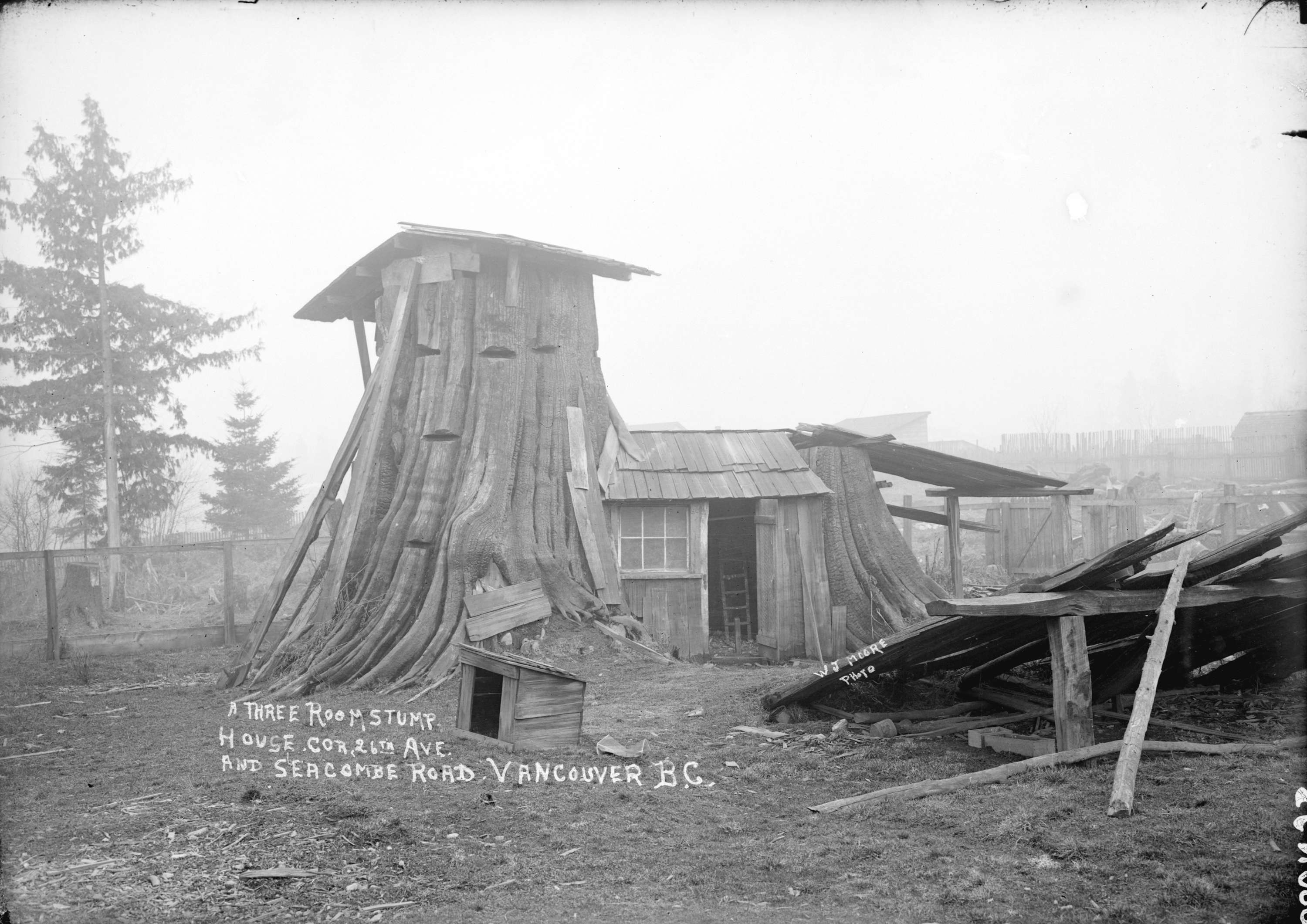 >
VANCOUVER - The Best Place to Live
Vancouver, located in the south west corner of beautiful Bristish Columbia, Canada, has consistently been named one of the best places in the world to live.
(See CBC News report Feb. 2014, and 2014 Mercer Survey)




MUSEUMS IN AND AROUND VANCOUVER

Name
City
Type
12 Service Battalion Museum
Richmond
Military
Alder Grove Telephone Museum
Aldergrove
Technology
Artspeak (Vancouver)
Vancouver
Art
BC Golf Museum and Hall of Fame
Vancouver
Sports
BC Sports Hall of Fame and Museum
Vancouver
Sports
Beaty Biodiversity Museum
Vancouver
Natural history
Britannia Heritage Shipyard
Richmond
Maritime
Bug Lab
New Westminster
Natural history
Burnaby Art Gallery
Burnaby
Art
Burnaby Village Museum
Burnaby
Open air
Chinese Cultural Center Museum
Vancouver
Ethnic
Chinese-Canadian Military Museum
Vancouver
Ethnic
Contemporary Art Gallery (Vancouver)
Vancouver
Art
Delta Museum and Archives
Delta
History
Emily Carr University of Art and Design Galleries
Vancouver
Art
Fort Langley Heritage CN Station
Fort Langley
Railroad
Fort Langley National Historic Site
Fort Langley
Open air
Gulf of Georgia Cannery
Steveston
Maritime
H. R. MacMillan Space Centre
Vancouver
Science
Irving House
New Westminster
Historic house
Jewish Museum and Archives of British Columbia
Vancouver
Ethnic
Langley Centennial Museum
Langley
Multiple
London Heritage Farm
Richmond
Historic house
Mackin House Museum
Coquitlam
Historic house
Maple Ridge Museum
Maple Ridge
History
Museum of Anthropology at UBC
Vancouver
First Nations
Museum of Archaeology & Ethnology
Burnaby
Archaeology
Museum of Vancouver
Vancouver
History
National Nikkei Museum & Heritage Centre
Burnaby
Ethnic
New Westminster Museum
New Westminster
History
New Westminster Police Museum
New Westminster
Law enforcement
North Vancouver Museum & Archives
North Vancouver
Multiple
Old Hastings Mill Store Museum
Vancouver
History
Pacific Museum of the Earth
Vancouver
Natural history
Pitt Meadows Museum
Pitt Meadows
History
Port Moody Station Museum
Port Moody
History
Regimental Museum of the BC Regiment
Vancouver
Military
Richmond Art Gallery
Richmond
Art
Richmond Museum
Richmond
History
Roedde House Museum
Vancouver
Historic house
Royal Westminster Regiment Historical Society and Museum
New Westminster
Military
Science World at Telus World of Science
Vancouver
Science
Seaforth Highlanders of Canada Regimental Museum and Archives
Vancouver
Military
Simon Fraser University Gallery
Burnaby
Art
Simon Fraser University Gallery
Vancouver
Art
Steveston Museum
Richmond
History
Surrey Museum
Surrey
Multiple
Trev Deeley Motorcycle Exhibition
Vancouver
Transport
Vancouver Art Gallery
Vancouver
Art
Vancouver Holocaust Education Center
Vancouver
Holocaust
Vancouver Maritime Museum
Vancouver
Maritime
Vancouver Police Museum
Vancouver
Law enforcement